What is bow legs?
Bow legs is a common condition among toddlers. It is also known as "genu varum". Cramped positioning in the womb is one of the major causes of bowlegs in toddlers. The condition results in an awkward appearance of the legs. The patient's leg appear bowed-out. Bowlegs in infants automatically get corrected as soon as they stat to walk. It happens usually during the 12th-18th months. Most cases will not have any long-term side effects. Bowlegs may develop as a result of cetain underlying conditions. If the condition persists for over the age of two, it should be brought to the notice of the doctor.
What causes bow legs?
Some cases of bowlegs will not have any crucial cause and it will get corrected own its own. There are certain other cases which may be caused due to an undelying condition. Some of them include:
Blount's Disease or Tibia vara
Rickets
Paget's disease
Dwarfism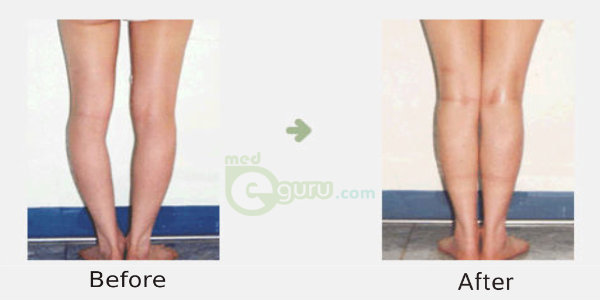 Other causes apart from this include:
Bone dysplasia or abnormal bone development
Fluoride poisoning
Lead poisoning
Bone fracture that is not properly improved

How are bow legs corrected?
Infants and toddlers do not require any treatment unless, it is caused due to an underlying condition. The condition progresses naturally by the age of 3 or 4 years. If the condition is caused due to any other undelying conditions or other causes, it may require surgical or nonsurgical treatment.
Non surgical correction of bow legs :
For correction of bow legs non surgically, the doctor may suggest special shoes, casts or braces. The doctor may also suggest some special exercises to straighten bow legs in children. These exercises are designed to strengthen the muscles and thighs. It may include:
Massage therapy exercises
Leg lengthening exercises
Yoga postures
Pilates
However, treatment options may vary according to the underlying causes of the condition.     
Surgical correction of bow legs :
Surgical treatments may vary according to the underlying causes of bow legs.
Orthopedic Solutions from our Doctors and Hospitals

Correction of Bow legs treatment in DelhiCorrection of Bow legs treatment in ChennaiCorrection of Bow legs treatment in PuneCorrection of Bow legs treatment in MumbaiCorrection of Bow legs treatment in BangaloreCorrection of Bow legs treatment in KolkataCorrection of Bow legs treatment in HyderabadCorrection of Bow legs treatment in KochiCorrection of Bow legs treatment in AhmedabadCorrection of Bow legs treatment in Surat