What is neck pain?

Neck pain also known as cervical spine pain can be a common concern among most people. Even a bad posture while sitting or sleeping can cause neck pain. However, neck pain can even be a symptom of a complex condition. It is important to seek medical help if the neck pain is accompanied by loss of strength on the hands or arms and numbness.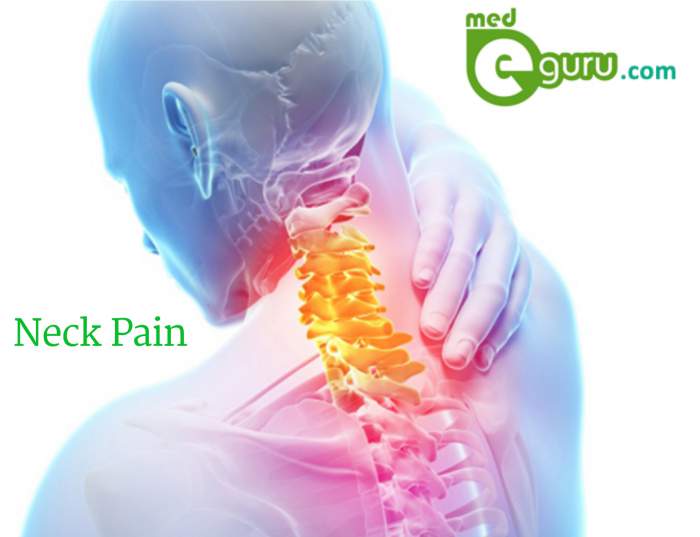 What are the symptoms of neck pain?
Neck pain can be accompanied by the following issues:
Stiffness in the neck

Difficulty in making movements

Numbness

Pain in the arms

Loss of strength in the arms or hands
What causes neck pain?
A variety of simple to chronic issues can result in neck pain. Some of the common causes of neck pain are:
Cancer

Meningitis

Worn joints

Muscle strains

Injuries and

Nerve compression
How is neck pain diagnosed?
The doctor will have a physical examination and check for previous medical history. To rule out the undelying causes of the condition, he/she may suggest for certain imaging tests such as:
X-rays

MRI

CT scan

Nerve tests (EMG)

Blood tests for inflammatory infectious conditions

Lumbar puncture or spinal tap to test for meningitis
What are the treatments for neck pain?
Mild cases of neck pain can be tackled with some rest. If the pain persists after rest, it is better to visit a doctor. After checking ge may prescribe over-the-counter medications for mild cases. It may include muscle relaxants and antidepressants. Otherwise, therapies are suggested for bit complex cases. It may include the following:
Stretching and neck exercise

Short-term immobilization and

Traction.
If the pain still persists, doctor may suggest other treatment options such as:
Steroid injections

Surgery
Spine treatments from our Doctors and Hospitals

Neck Pain Specialists in DelhiNeck Pain Specialists in ChennaiNeck Pain Specialists in PuneNeck Pain Specialists in MumbaiNeck Pain Specialists in BangaloreNeck Pain Specialists in KolkataNeck Pain Specialists in HyderabadNeck Pain Specialists in KochiNeck Pain Specialists in AhmedabadNeck Pain Specialists in Surat