Cervical disease is the most common cause for prolonged and sever neck pain. Cervical disease is caused by the abnormality that exist in one or more of the discs of cervical spine. Cervical disease caused by neck arthritis or unknown reasons leads to neck pain, swelling and muscle spasms. Physiotherapy, pain relievers and medications can help in easing the neck pain. When these conservative techniques do not yield any fruitful results, naturally patient will be compelled to resort to surgical procedures like fusion and disc replacement.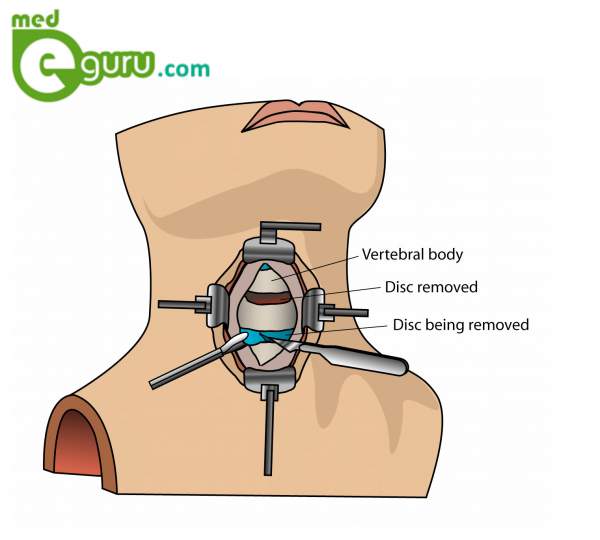 What are the surgeries for removing neck pain?

Surgery for removing the neck pain is known as discectomy. In discectomy the surgeon removes the disc through a small incision either through the front side of your neck(anterior) or through the back side of your neck (posterior). This procedure is done under anesthesia.
Microdiscectomy
In this procedure the disc is removed through a small incision with the help of a magnifying device like a microscope.The space left by the removed disc is usually filled by two methods known as cervical fusion and artificial cervical disc replacement.
Cervical fusion
In this procedure the surgeon replaces the removed disc by a bone graft taken from the patient's own hip or from a cadaver in the gap between the vertebrae. The bone graft will fuse between the bones above and below it in due course of time. In some cased metal plates will be placed above and below the grafted bone and will be screwed to the adjacent vertebrae. These metal plates will keep the bone graft in place while it heals and will fuse with vertebrae in due course of time. Discectomy with cervical fusion has always been found to be very effective in relieving the pain related to spinal disc disease. The only drawback is that some people have been found to lose the movement of their neck to some extent.
What are the risks involved in Disc Surgery?
Although cervical disc surgery has been found to be very successful it has some risk factors also. Excessive bleeding, possibility of infection and reaction to anesthesia are found to be risk factors accompanying this procedure. Damage to esophagus, vocal cord, spinal cord etc are other risk factors that usually accompany this procedure.
How much time will it take for recovery?
You will be able to move around within one or two hours after the surgery and you will be able to go home on the same day or the very next day. It may take more than three months and up to one year for the fusion to solidify and become permanent.
Spine treatments from our Doctors and Hospitals

Surgery for Chronic Neck Pain in DelhiSurgery for Chronic Neck Pain in ChennaiSurgery for Chronic Neck Pain in PuneSurgery for Chronic Neck Pain in MumbaiSurgery for Chronic Neck Pain in BangaloreSurgery for Chronic Neck Pain in KolkataSurgery for Chronic Neck Pain in HyderabadSurgery for Chronic Neck Pain in KochiCervical Disc Surgery in AhmedabadCervical Disc Surgery in Surat