'Burning mouth syndrome' is the medical term used to indicate the recurrent burning sensation in the mouth. This condition affects the cheeks, lips, roof of the mouth and the widespread areas of the mouth. The cause for this condition is not known yet. It affects the mouth all of a sudden and become very severe. Experts believe that poor oral hygiene, various other dental problems etc. can be the reason for getting 'burning mouth syndrome'. This condition is also known in different names such as burning tongue syndrome, stomatodynia, glossodynia, scalded mouth syndrome, etc.
Signs and symptoms of burning mouth syndrome include severe burning sensation, pain, etc. There is no time specification for when it will occur and how long it will take to heal. It may vary according to each individual. Signs, symptoms and cause will vary accordingly.
Symptoms of burning mouth syndrome:-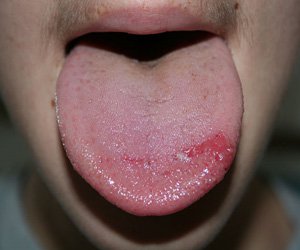 Sore or dry mouth
Numbness or tingling on the tip of the tongue
Change in taste, sometimes no taste.
Even though it is hard to find the exact cause, experts believe these as some of the common causes:
Hormonal changes
Systemic diseases
Acid reflux
Nutritional deficiencies
Depression or anxiety
Severe damage to nerves that control taste and pain
Fungal infections
Allergies by wearing dentures or poorly fitted dentures
Certain medications used to treat dry mouth
Diagnosing 'burning mouth syndrome' requires checking previous medical histories, conducting a series of examinations and tests etc. Blood tests are to detect any kind of fungal infections, nutritional deficiencies, diabetes, thyroid etc. The treatment options will vary according to the cause of the disease. Treatment options may include:
Replacing the dentures
Treatments to improve thyroid, diabetes etc.
Medications to improve BMS
Medications to deal with anxiety and depression etc.
You can prevent BMS to a certain extent by following some simple tips such as:
Drinking water
Sucking on ice
Chewing sugarless gum
Brushing the teeth with baking soda and water
Abstaining from fruits and juices
Avoiding hot and spicy food items
Avoid using mouthwashes that contain high acidity level etc.
Dental Treatments from our Doctors and Hospital
Burning Mouth Syndrome Treatments in CochinBurning Mouth Syndrome Treatments in MaduraiBurning Mouth Syndrome Treatments in ChennaiBurning Mouth Syndrome Treatments in New DelhiBurning Mouth Syndrome Treatments in BangaloreBurning Mouth Syndrome Treatments in HyderabadBurning Mouth Syndrome Treatments in SecunderabadBurning Mouth Syndrome Treatments in MumbaiBurning Mouth Syndrome Treatments in Greater NoidaBurning Mouth Syndrome Treatments in AhmedabadBurning Mouth Syndrome Treatments in Whitefield